History
After William Penn had laid out Philadelphia, his "great town", in 1682, he traveled north through a vast tract of land he had purchased from the local Indians. Some 28 miles northeast of Philadelphia, in the middle of trees that bordered a creek flowing to the Delaware River, he allegedly announced "This is where I propose to build my 'new town'". No documentation supports this tale but, two years later in 1684, William Penn's surveyor, Thomas Holme, devised a plan for a new settlement initially called New Township. Straddling what is now called Newtown Creek, the site included 640 acres. In time, the name was shortened to Newtown.
The small village along Newtown Creek became the County Seat of Bucks in 1725 and it remained the center of county government until 1813 when the Court House was moved to Doylestown. The village had been settled as part of Newtown Township until it was incorporated by the Commonwealth of Pennsylvania General Assembly as a borough on April 16, 1838. Qualified voters accepted the Act of Incorporation and, on May 21, 1838, met at the public house of Oliver Cadwallader to elect by ballot one person for Chief Burgess, one person for Assistant Burgess and nine persons to compose a Town Council, five of whom were to be free-holders. The newly elected officials then met for the inaugural Council session.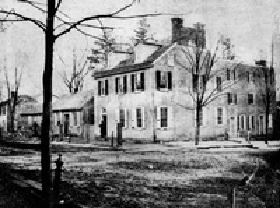 Home of Dr. Phineas Jenks-
Southwest corner of State St. &
Centre Ave. c. 1865
The Borough was enlarged four times since 1838 and its buildings show excellent examples of all major architectural styles. Newtown Borough became one of Bucks County's preeminent communities with the construction of many substantial colonial residences and taverns. The Historic District was established in 1969, enlarged in 1976, again in 1985 and is listed on the National Register of Historic Places. Newtown today still retains the character of this important period of history.
For more information about the history of Newtown go to the Historic Association web site.